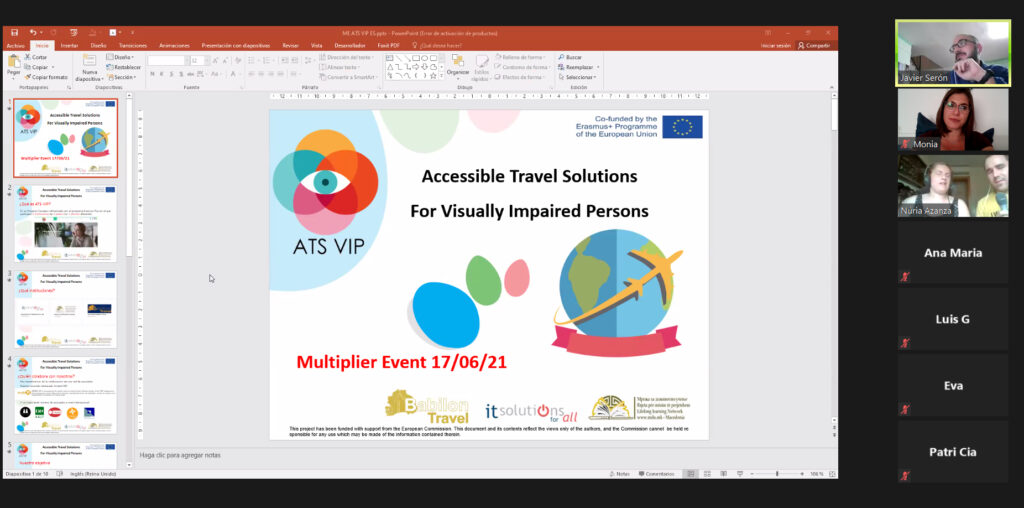 On June 17, 2021 IT Solutions for All hosted the multiplier event of ATS VIP project. Due to post pandemic COVID-19 restrictions, it has been run online on Zoom platform.
The association IT Solutions for All, based in Malaga, carried out the multiplier event of ATS VIP project, "Accessible Travel Solutions for Visually Impaired Persons", on June 17, 2021.
This event was addressed to blind people, visually impaired people and their companions, tourism and transportation professionals across Spain. The event took place online through the Zoom platform to guarantee the safety of all participants due to pandemic.
The event was attended by 20 people, blind people, visually impaired people and companions. All participants reported a high degree of satisfaction with the discussion, as well as they were interested to know more about ATS VIP project.
In this event, we presented to the audience the goals of ATS VIP Project, as well as all the stage of the development process of the project, so they could better understand the importance and the relevance of the project, as visually impaired and blind travellers. ATS VIP team encouraged participants to follow the project development and to take part to its important awareness campaign, sharing their experience and participating to the Best Storytelling Video contest.
ATS VIP is a Project co-financed by the Erasmus+ Programme of the European Commission
to which participates a consortium of 3 partners from 3 countries (Republic of North Macedonia, Romania and Spain). The main purpose of ATS VIP project is to make travels accessible and safe for blind and disabled people, through the development of an open educational resourced platform about barrier-free tourism and transport solutions, to make travelling more accessible and safe for blind and visually impaired people and to improve their mobility and quality of life across Europe. ATS VIP proposes an integrated approach, possible through the cooperation of partners active in many sectors.